Healthcare Industry's Environmental Impact
The healthcare industry contributes to approximately 8.5% of total greenhouse gas emissions in the United States and approximately 4.5% of global emissions. These emissions are generated mostly from the continuous operation of energy-draining facilities and the extensive production, food, medical devices, and various goods and services bought, and sometimes wasted, all in the course of providing care.
Scope emissions 1, 2, and 3
Scope emissions are a way of classifying greenhouse gas emissions based on where they occur in the value chain.
How do healthcare facilities use all three scopes?
Within the healthcare sector, emissions are categorized into three scopes:
Scope 1: These emissions originate from sources owned or directly managed by healthcare organizations, including emissions from facilities like specific medical gases and on-site boilers.
Examples:
Vehicle fleets, such as ambulances and delivery vehicles
Medical equipment, such as anesthesia machines and medical imaging devices
Scope 1 emissions make up approximately 7 percent of the total emissions from the healthcare sector.
Scope 2: This category includes indirect emissions resulting from the generation of energy purchased by health systems, primarily in the form of electricity.
Example:
Heat and steam purchased from utilities
Scope 2: emissions account for around 11 percent of emissions related to healthcare.
Scope 3: Covering all additional indirect emissions, Scope 3 emissions result from the production and transportation of goods and services acquired by the healthcare sector. This category includes emissions associated with pharmaceuticals and a range of medical products and devices.
Examples:
Emissions from business travel, such as flights and hotel stays
Emissions from employee commuting, such as driving to and from work
Scope 3 emissions constitute over 80 percent of the total emissions in the healthcare industry.
Why ESG Is Crucial In The Healthcare Sector
In general, having a strong ESG program suggests your organization is good at handling risks, saving money, and adapting to community needs.
Since healthcare is all about taking care of people and communities, ESG practices are a good match. Putting all these efforts into one ESG plan helps ensure the organization keeps growing and improving.
Environmental Side of ESG:
Hospitals and healthcare groups produce about 8.5% of the U.S.'s greenhouse gas emissions.
To deal with this, small changes can be made that help the environment and save on costs.
These might include:
Using data centers more efficiently to reduce their digital "carbon footprint."
Cutting down on single-use items in food service.
Purchasing supplies from companies that are working towards producing no net emissions.
Adding electric vehicles to their transportation fleet.
Focusing on building and maintaining healthcare facilities in more eco-friendly ways.
The Problem of Measuring and Taking Action on ESG
ESG can be difficult to measure and take action on, especially in the healthcare industry. Healthcare organizations have complex operations and supply chains, and they often face competing priorities. There is no universal or one-size-fits-all method for ESG. Each healthcare organization needs to develop its own ESG strategy based on its unique goals.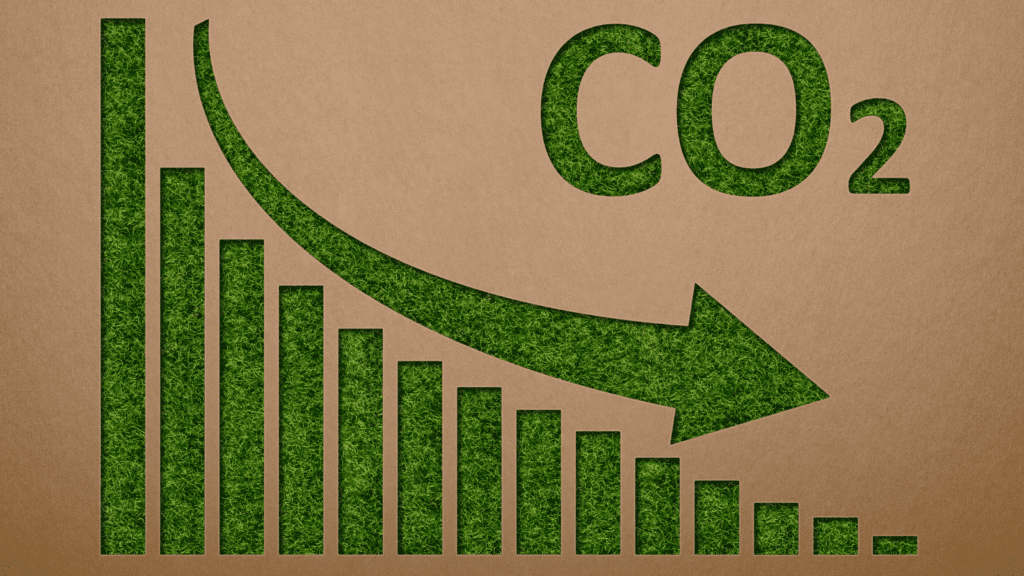 Challenges Of Measuring And Taking Action On ESG In The Healthcare Industry
Multiple ESG Frameworks
Organizations must pick from various ESG reporting standards based on their location and industry to meet investor expectations and ESG credit scoring.
Evolving ESG Regulations
The EU has introduced stricter regulations, such as the Sustainable Finance Disclosure Regulation (SFDR) and the upcoming Corporate Sustainability Reporting Directive (CSRD). These regulations are influencing global standards.
Complex ESG Data Management
Gathering and handling ESG data is complicated due to diverse sources, manual record-keeping, and the challenge of connecting sustainable actions to financial results.
Understanding, Managing, and Quantifying ESG Risks
ESG risks are often hard to measure because they don't always have a clear monetary value. Companies need tech-enabled risk management to deal with them effectively.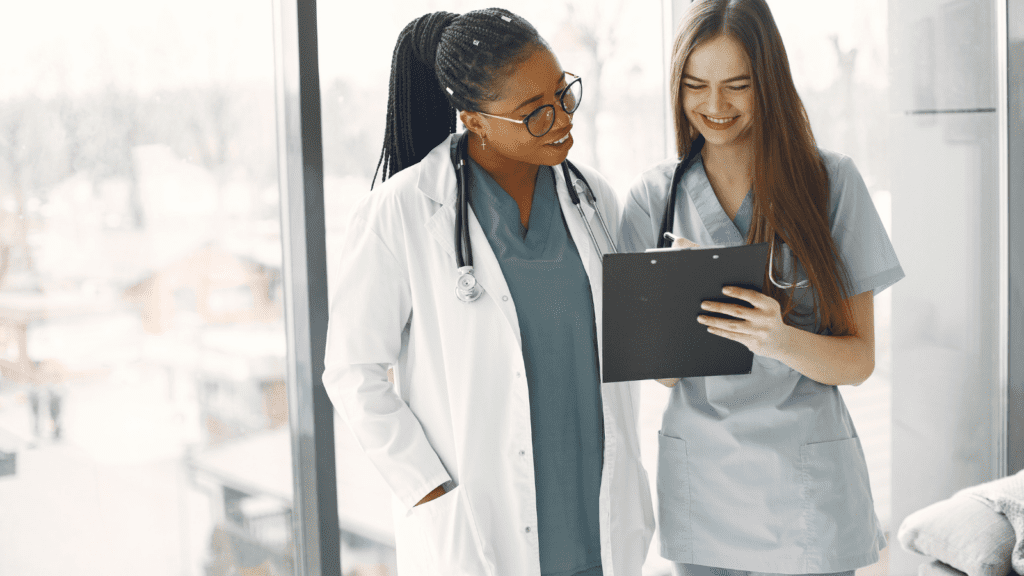 Decarbonization in the Healthcare Industry
Decarbonization in the healthcare industry is the process of reducing greenhouse gas emissions from the sector. It's important that organizations take this matter seriously because the healthcare industry is a major contributor to climate change.
The healthcare industry has several avenues for achieving decarbonization. Transitioning to renewable energy sources like solar and wind power is one approach, alongside improving energy efficiency through the use of more advanced equipment and sustainable infrastructure. Healthcare organizations can also reduce their emissions by reducing waste, investing in sustainable transportation, and purchasing sustainable products and services.
Decarbonizing the healthcare industry has a number of benefits. It can help to reduce the sector's environmental impact, improve public health, and save money. By reducing their emissions, healthcare organizations can also improve their reputation and attract and retain patients and employees.
Specific Examples Of How Healthcare Organizations Are Decarbonizing:
Hospitals are installing solar panels on their rooftops and/or investing in solar carports for their parking lots.
Healthcare organizations are investing in energy-efficient equipment and buildings.
Reducing food waste and recycling more materials.
Utilizing electric vehicles and bicycles for transportation.
Healthcare organizations are purchasing sustainable products and services, such as recycled medical supplies and green cleaning products.
Climate Pledge
On April 22, 2022, the Department of Health and Human Services (HHS), in partnership with the White House, issued a call to action for the healthcare industry to commit to reducing greenhouse gas emissions 50% by 2030 through an initiative aimed at reducing emissions across the sector, the Climate Pledge.
These ambitious pledges align with President Biden's objective of achieving a 50-52% reduction in nationwide greenhouse gas emissions by 2030 and ultimately reaching net-zero emissions by 2050.
Since then, the healthcare industry has witnessed groundbreaking commitments, including:
Two of the five largest private hospitals and health systems in the US, along with the largest public health system, have committed to cut their carbon emissions in half by 2030.
Major healthcare suppliers like Pfizer and AstraZeneca have taken proactive measures to achieve net-zero emissions ahead of the 2050 target.
Significant medical associations, such as America's Essential Hospitals, the American Association of Medical Colleges, and the National Academy of Medicine, have made commitments to address climate-related issues.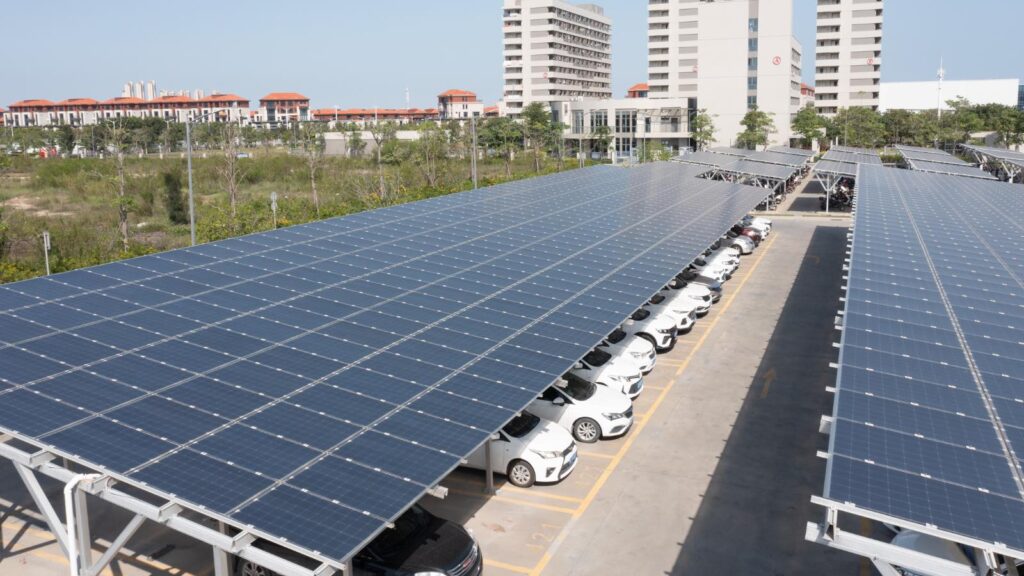 Sustainable Solutions in the Healthcare Sector
Solar energy is a key part of achieving net-zero emissions and practicing sustainability in the healthcare sector. Solar panels can be installed on the rooftops of healthcare facilities to generate clean electricity.
Facilities may also opt for solar carports, serving a dual purpose by providing shade to employees and customers while simultaneously generating electricity. Solar can also be used to power electricity for EV chargers, giving customers the luxury of charging their electric vehicles while inside the building.
Benefits for Healthcare Organizations That Committed to the Healthcare Sector Climate Pledge and Solar Energy Investments
Reduced Environmental Impact
Solar energy is a clean and renewable source of energy that does not produce greenhouse gas emissions. By utilizing solar energy, healthcare organizations reduce their carbon emissions and become one step closer to achieving their ESG goals.
Improved Public Health
Air pollution from fossil fuel power plants is a major health hazard. Solar energy assists healthcare organizations with improving public health in their communities.
Reduced Energy Costs
Solar power offers healthcare facilities long-term energy cost reductions.
A number of healthcare organizations have already signed the Healthcare Sector Climate Pledge and invested in solar energy. For example, Kaiser Permanente has added over 44 MW of on-site solar generation, and Children's National Hospital has installed a solar panel system that will benefit the community by lowering utility costs for 325 families by up to $500 per year.
The Healthcare Sector Climate Pledge and solar energy are two important ways that the healthcare sector can reduce its environmental impact and improve public health.
Case study
AdventHealth Orlando, a faith-based, non-profit hospital campus in Florida, has installed the largest solar project in Orlando. The 850-kW solar carport on top of their McRae parking garage was installed in partnership with SunPower by esaSolar.
This installation, which includes 32 electric vehicle charging stations and is expected to save the facility over $4.6 million in energy costs, significantly advances the facility's sustainability goals and underscores its commitment to clean, renewable energy.
It is the largest solar project within the city of Orlando, and AdventHealth plans to install similar solar projects at other facilities in the Central Florida area in the future.
Sources